It's hard to label anything, especially when you're in love. And everything starts looking queer as one tribe decides what it truly means to belong.



Andi

and

Mac

are dating, both in their first opposite-sex romantic relationship. They discover the pitfalls of coming-out as bisexual when all of your family and friends already know you as lesbian or gay.
Andi's ex-girlfriend,

Sarah

, feels betrayed while other friends,

Roger

and

Arco

, wrestle with disbelief and the questioning of labels altogether.


Regina

is Mac's mother and raised him with neighbor 

Sal, 

both women serving as parents. But Sal now realizes that Regina will never abandon her public identity as heterosexual, even though both women have shared emotional and physical intimacy over decades of a relationship lived in the shadows.

All characters attempt to reconcile these personal identities with their public selves in terms of career, sexuality and relationships while testing the boundaries of LGBTQIA+ inclusiveness.
Andi - Female, 20s, Any race / ethnicity
Mac - Male, 20s, Any race / ethnicity
Regina - Female, 40s/50s, Any race / ethnicity
Sal - Female, 40s/50s, Any race / ethnicity
Sarah - Female, 20s, Any race / ethnicity
Roger - Male, 20s, Any race / ethnicity
Arco - Non-binary, 20s, Any race / ethnicity
Best Women's Monologues


(

Smith & Kraus Publishers

, NH - 2021)



FINALIST


(Loft Ensemble, CA - 2021)

FINALIST
(Stella Adler Center For The Arts, 2021)



Selection, bisexual and pansexual perspectives


(

Whiskey Theatre Factory

, FL - 2021)



Premiere Finalist


(

Playwrights' Round Table

, FL - 2021)



Semi-Finalist
(

The Depot

, NY - 2021)



3rd Place Winner, New Works Competition


(

Las Vegas Little Theatre

, LV - 2020)



Semi-Finalist, New Comedies Festival


(

B Street Theatre

, CA - 2020)



Artist To Watch


(

Theatre Viscera

, OR - 2020)
REVIEWS & RECOMMENDATIONS
"John Mabey's play is full of love…even more interestingly, it asks us to look at preconceived notions of identity…Mabey's thoughtful points making this a human story about interesting and realistic characters…the message of being open to change, embracing self-discovery and above all looking for love is a particularly welcome one."


(Matt Palm, Theatre Critic, The Orlando Sentinel 6/25/22)
"Nothing is absolute and nothing ever was. John Mabey inspects the world of sexual labels that may have helped liberate and define us but are now traps of our own making. Have the times changed or have people changed? With loving and searching characters, relationships with insightful and delicious dialogue, B IS FOR BULLSH!T is a celebration of this mess we have created all in the name of good!"
(D. Lee Miller)
"Mabey writes with a very deft hand and tackles what happens when your own identity is tied up in someone else's, what happens when your identity is questioned or dismissed by the very community meant to support you, and what happens when your relationship is treated as a twisted experiment."
(Theatre Viscera)

"John Mabey writes with intelligence, depth of feelings, honest reflections, and thought provoking characters and relationships in "B Is For Bullsh!t". Love is a strong emotion, finding oneself is a hard task, and people making sense of it all, are all elements in this full-length play. I highly recommend this play! Bravo!"
(Jack Levine)
"A brave and honest look at who we are and how hard it is to be clear and real about it. I found this play to be so relatable! I adore the older characters who are well-written in all their complexity as much as the younger ones who are distinct and specific. Mabey writes lines to memorize, they're so good. A must-read!"
(Emma Goldman-Sherman)
"de Certeau once wrote: "Identity freezes the gesture of thinking." And in Wayne's World, Wayne Campbell attributes the quote "if you label me, you negate me" to Dick Van Patten. In B is For Bullsh!t, John Mabey questions how labels meant to liberate create another containment effect, erasing other possibilities to think and feel otherwise, negating the potential for new life and expressions. It is a gorgeous and earnest play. Mabey has a wonderful sense of humor that presents itself in a multitude of ways through their fully-realized characters, each with their own desires and fears."
(John Patrick Bray)

"What a beautiful play! I always enjoy John Mabey's writing, and I love this exploration of identity and who gets to define what it is and what it means. So many wonderful little details (and wonderful moments of comedy!) come together to build a very engaging full length play about people wrestling with who they are and struggling for acceptance from people whom they had always previously felt accepted by. What a great piece!"
(​​​​​​​Lisa Dellagiarino Feriend)

"What an insightful, compelling and witty exploration of identity and identity politics. The play wanders the rocky path of defining identity for ourselves in terms set by others and reveals ways of escaping that path through the journeys of seven distinctive and engaging characters. There is a comic tone throughout that buoys the honest grappling with complex issues facing queer communities or, in the language of the play, tribes."
(Paul Donnelly)
"How refreshing to read a play about queerness that didn't center around the relationship between queer characters and straight ones. In focusing on a multitude of (and exclusively) queer experiences, Mabey is able to explore nuanced intersectional issues that don't get much airtime in comedies. He explores biphobia and bi erasure, how generational differences impact queer identity, coming out, friendships, fellowship, and conflicts within queer communities and friend groups. All of the characters are distinct and the play manages to keep a light, entertaining tone while maintaining tension and giving voice to vital conversations from within the queer community."
(Nick Malakhow)
"From the very beginning of this play, questions of intersectionality and identity are asked in a way that makes it approachable yet hard-hitting. Seeing characters who are unsure about how they identify and being concerned about the ramifications of what they claim for themselves is a refreshing concept. Even the simple notion that bisexuality isn't real as a driving force is strong. This play is layered with concepts about gender roles, gender identity, perceived sexuality, and all the tricky things that come in between. Great read."
(TJ Young)
"The closing lines of this intriguing, thought-provoking play say it all: " 'Messy.' And that's good? That's what we earned." And Mabey definitely dives into the messiness of sexual identity, and with wit, compassion, and a ton of very funny, pithy lines, makes sharp points about the need to label, or if there's even a need to label at all. Swift and fluid, it's a play that asks more questions than it can answer, and that's what makes it linger."
(Doug DeVita)
"Love the layering in the restaurant and the end. Many stunning moments. Each character would be great to unpack in production. Well done!"
(Samantha Marchant)

"I had the pleasure of seeing a virtual reading of this play recently, and it takes an intense and thought-provoking look into the ways we self-identify -- and how that self-identification affects our relationships with others. Smartly, sharply and bravely written."
(Hank Kimmel)
"John Mabey is one of my favorite playwrights. This full-length play is timely, thought-provoking, and very funny. The characters are multi-dimensional, likable, and nuanced. The dialogue is well-crafted and fast-paced. I would love to see this staged! B is for Bravo!"
(Cindi Sansone-Braff)



"Brilliantly funny and remarkably moving, The B is for Bullsh!t is an ensemble piece where each performer truly has a chance to shine. Mabey's play offers an intimate and insightful view of a group of LGBTQIA friends as they look at labels and long for love, finding and redefining themselves along the way. With sparkling dialogue, clever plotting, genuine emotions, and memorable characters, it explores, enlightens, and entertains. Having seen it staged to great success and acclaim, it's a sure-fire and fun to produce fit for colleges and community theaters alike."
(Ken Preuss)
"Some of the most fully dimensional characters that I have ever seen.
Of all the compelling storylines, of all the grasps at defining an identity, perhaps the most compelling and resonant may be that of "who are you when the none of the letters apply?"
It strikes at the core of the issue, and I hope to be afforded to opportunity to direct this someday."
(Brian Cern)


"When I was a young lad just coming out as gay, there were only three letters: GLB. Then T was added. Now in an attempt to be broadly inclusive more have appeared. Even so, as the characters in John Mabey's wonderful play discover, attempting to pigeonhole our dearest friends, or even ourselves, into that spectrum can be precarious, and acceptance doesn't come easily. His dialogue is true to life, and its moments of overlapping conversation are technically brilliant. It deserves attention and production."
(Donald E. Baker)
Playwrights South, GA - 2020
 
Readings For A New World, AZ - 2020

Valdez Theatre Conference, AK - 2021

Play Readings With Friends, NY - 2021

Playwrights' Round Table, FL - 2021
Playwrights' Round Table, FL - 2022

Stella Adler Studio of Acting, NYC - 2022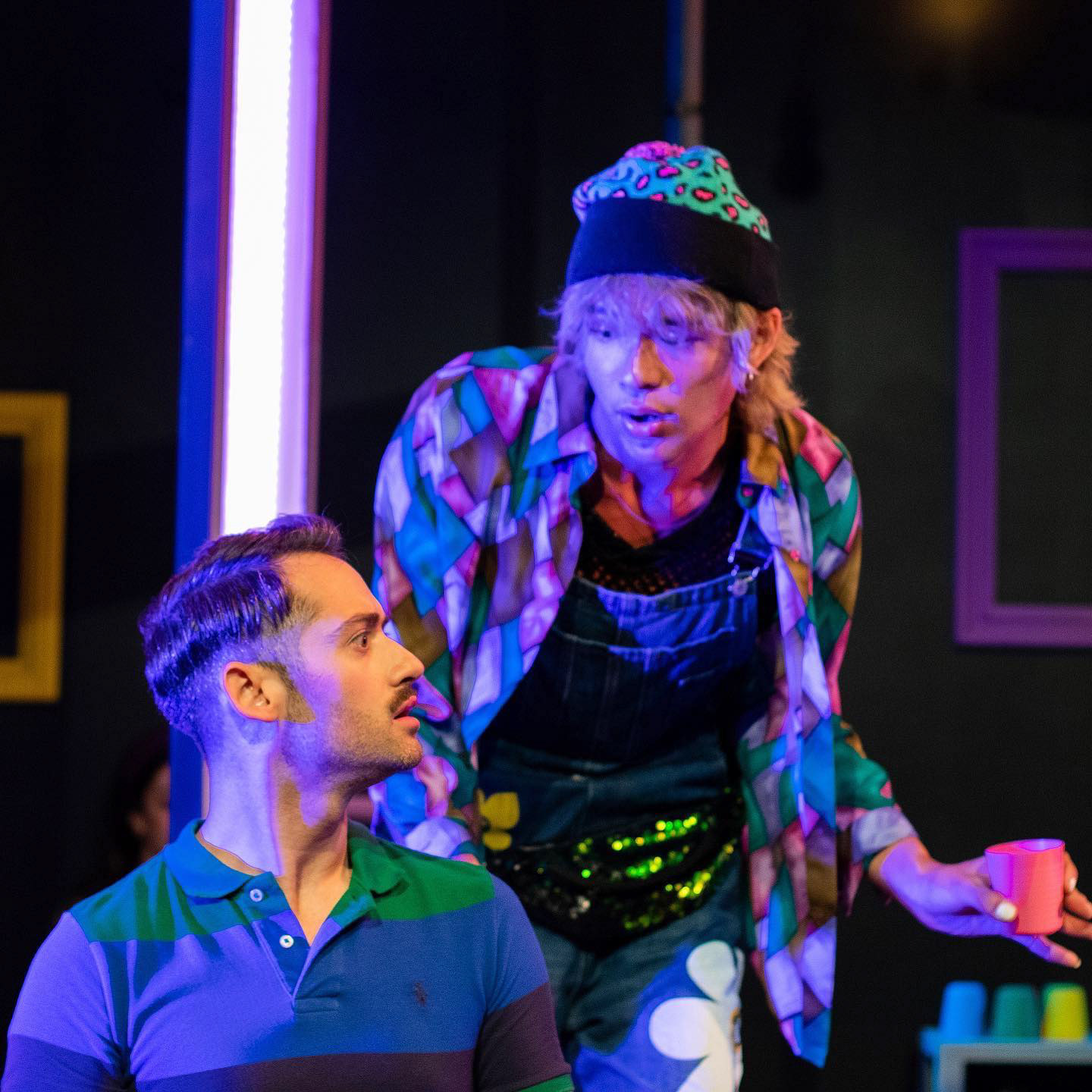 Stella Adler NYC images courtesy of @ak47division